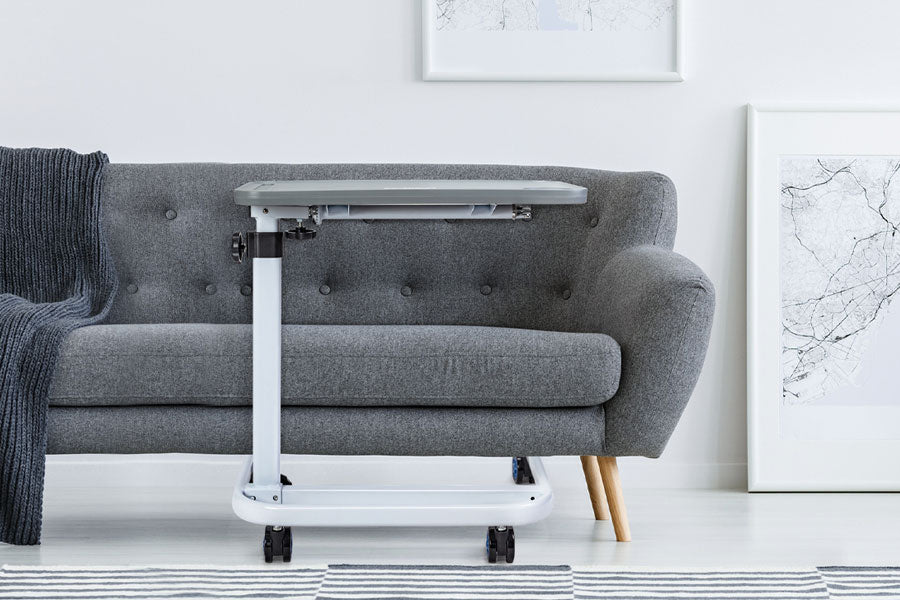 Why Should you Have an Overbed Table?
Our bodies become more susceptible to injury and illness as we age, which necessitates bed rest and prolonged periods of downtime. Nonetheless, it is imperative to maintain your mental well-being and quality of life by staying as active as possible.
Using an overbed table for eating and doing other activities, such as crafts, reading, writing, and playing games can make a world of difference. From a bed or lounge chair, you can use the table's surface. The main role of overbed tables is therefore to cater to the needs of residents and patients in care homes and hospitals. Nevertheless, they are also used in domestic environments due to their practical benefits.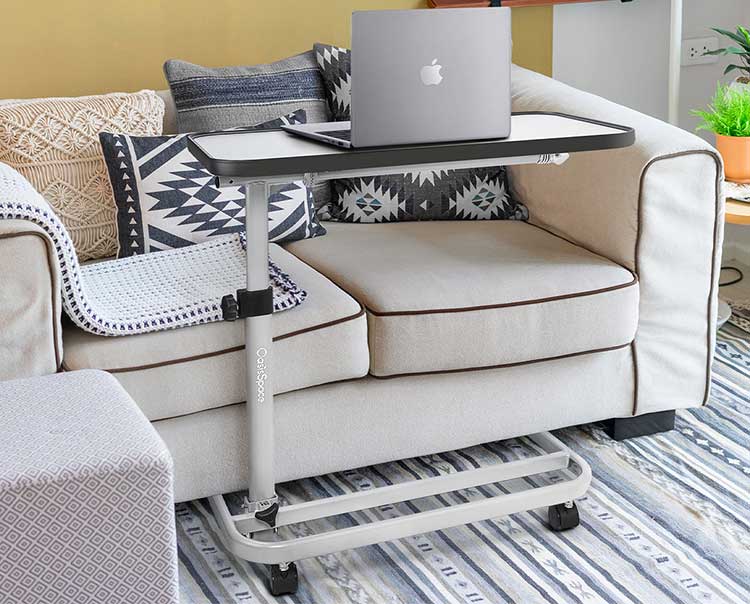 The overbed table may serve more as a necessity than a decoration to seniors who spend much of their time in bed. When you've got a stable surface near you for mess-free eating, working or playing games, you're more likely to enjoy your time in bed. The overbed table offers an opportunity for independence that bedridden individuals might not otherwise have.
1.The Diversity Use.
It is most often used to hold meals so you can eat in comfort at home even if you have no problem eating, but you're just a little lazy. 
For working in the middle of the night or the early morning, tables that go over the bed are ideal. Support is provided even for the heaviest laptops so that you can reply to emails or complete other urgent work-related tasks.
Reading can also be done on these specialized tables. They allow you to indulge in multiple reading sessions per week since many have adjustable tabletops to accommodate your books, e-reader, tablet, or laptop.
2.The Convenience.
With this device, unlike bedside or coffee tables, you do not have to bend down or strain. For people with limited mobility, this makes reading, working, writing, eating and drinking more convenient. When you have limited movement following an operation or injury, they can make transfers easier. In addition, they are also a suitable option for elderly users looking for a stable and accessible surface at home.
There is one thing to notice. If you are using the overbed table yourself or if you are giving it to someone as a gift, make sure you clear the floor in the room to prevent accidents.
3.The Flexibility.
Basic overbed tables are available with a flat top that can simply serve as a hard surface for food trays or books. If you desire something more flexible, buy a table with a tilt-top surface, which can be altered to an angle so you can read books or interact more easily with tablets or laptops. Additionally, some overbed tables may have angled surfaces and pivoting for improved ergonomics and closer positioning.
It is most common to find tabletops in an H-shape, U-shape or C-shape. Those using wheelchairs may find C-shaped or U-shaped tabletops easier to manipulate. Compare the different shapes in person if you can, to see how they feel when placed over the bed you will use them on. There are different tray edge options available on overbed tables, for example, raised edges or protective lips. Overbed tables can be equipped with these to prevent items such as food and drinks from sliding or spilling off the sides.
4.The Adjustability.
It is not recommended to select fixed height overbed tables since you are unsure of your ability to fit underneath them comfortably. Using adjustable overbed tables allows users to have more control and feel more autonomous, which can be especially beneficial to seniors who wish to live independently.
Most overbed tables come with height-adjustable tabletops, which allows users to select tabletop levels that correspond to their individual needs. A low bed should be paired with an overbed table that has a lower height capability. Alternatively, if you plan on purchasing a regular or high bed, choose an overbed table that is able to reach higher points. Overbed tables are operated by twist knobs or spring-loaded mechanisms that secure themselves into place once raised.
5.Portability.
It is usually simple to move an overbed table with wheels from room to room in the house when necessary. Wheels or casters on these overbed tables make them easier to move even when the user is seated. Rolling the overbed table in all directions requires casters which allow the table to be used for all other bedroom chores or even as a computer desk. And, table wheels roll back and forth are mainly used for anchoring to the edge of your bed.  It is always suggested that you should look for an overbed table with wheels having locking mechanisms. The overbed table, if its wheels can't be locked, can slide away easily, posing a safety hazard and leading to falls.
6.The Styles.
It is possible to acquire overbed tables in a variety of styles, and the aesthetics will depend upon the user's tastes and needs. As far as size is concerned, a smaller home table is easier to place in the home, but will have a smaller top surface and will likely have fewer adjustment options as a larger table does. Hospital-grade overbed tables are thicker and larger than ordinary overbed tables, but they are also sturdier and less likely to fall over.
Overbed tables are incredibly useful for those who must spend a significant amount of time in bed, whether recovering from an illness, injury or recovering from long-term recuperation. Furthermore, those with lift chairs or wheelchairs might also benefit from overbed designs that are specially configured.
Conclusion
An
overbed table
typically costs between $40 and $200. Generally, smaller tables with fewer features are less expensive than larger tables with more features. It may be difficult for you or your loved one to purchase the overbed table in person when you are looking for the perfect piece. Thanks to the online vendors, it is much easier to buy a high-quality and affordable overbed tables