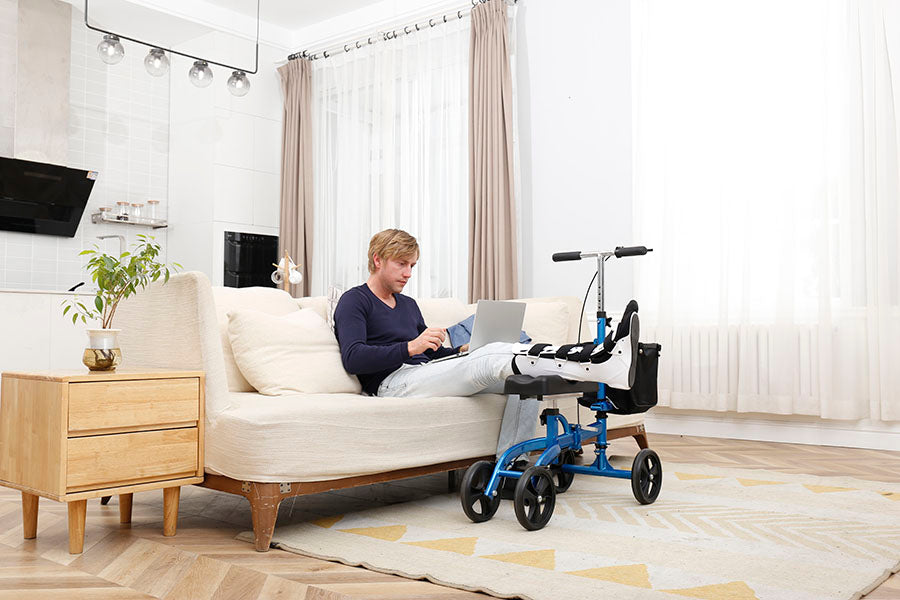 Is Buying a Knee Scooter Worth It?
For people recovering from surgery or lower leg injuries, a knee walker is a useful mobility aid. A knee walker is typically easier and more comfortable to use than crutches. In cases where one leg may not be used during recovery, consider using a knee walker.
Knee walkers give users a lot of independence.(More Advantages Here) As opposed to crutches or a wheelchair, knee walkers allow you to stand and do things such as wash the dishes.
Additionally, they enable users to maintain proper posture and ergonomics, which are often compromised by crutches. Due to their size and portability, you can easily take them to work, errands, or school with you in the car or on public transportation.
Various types of knee scooters are available, including lightweight, sturdy, and foldable models. Users are able to operate them in a variety of terrains, such as on concrete, on grass, or inside the house or office.
It may have been a struggle to decide whether to buy or rent a knee scooterif you are considering getting one. Prior to making a decision, you should carefully weigh the advantages and disadvantages of both options.
| | Renting Knee Scooters | Buying Knee Scooters |
| --- | --- | --- |
| Cost | $20-$40/week | $100-$200 |
| Warranty | × | ✓ |
| Choice | Few | Many |
| Time | Limited time | Any time |
| Status | A little dirty | Brand new |
Renting
Pros:
Money: 
Compared to buying a new unit, the knee scooter rental will be more affordable. Perhaps you do not have the cash on hand to buy knee scooter, but you desperately need it so that you can get around without bothering others.
Compared to purchasing a mobility scooter permanently, the knee scooter rental is a better deal when it comes to saving some money. In case you need all the bells and whistles when you have a limited budget, you might be able to rent a knee scooter that's more expensive than you could afford to purchase.
Convenience: 
The mobility scooter might not fit in your luggage when you travel to a new city or country. It would be expensive to try to transport a mobility scooter, so the knee scooter rental would be a viable alternative.
Besides, if you would like to rent a knee scooter but need to keep it for longer than expected, some knee scooter rentals provide rent-to-own options. A scooter can be rented for an extended period or you can purchase it by making payments.
Cons:
Limited Service: 
Are you living in a small apartment? Would an all-terrain knee scooter be a good fit for you? It's more likely you'll select a model based on what's available than on what you need. Most local stores won't have expert knowledge of knee scooters, so they will sell outdated, basic models.
Due to their lack of expertise, these stores cannot provide maintenance or extra parts for knee scooters. Generally, individuals who require a knee scooter for foot or ankle injuries are already unable to drive. Ask if a knee scooter can be delivered to you when you rent one from a local store. The service is usually not free.
No Warranty: 
The use of second-hand knee scooters can be risky. There is no way to know how long the parts have been used and in what condition they are. Does the brake system work properly? Have the wheel bearings been maintained frequently? Have the pneumatic tires been filled to the recommended pressure? Does the knee rest pad need to be replaced? Renting a knee scooter won't provide you with a warranty to cover defects, so you might end up using it at your own risk.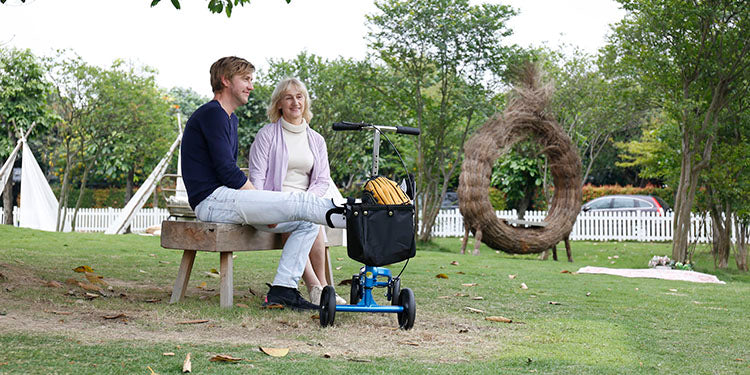 Buying
Cons: 
Money:
 A knee scooter costs an average of over $100. The reality is that you won't use a knee scooter for the rest of your life, and after you've recovered from your injury, unless you absolutely love it, you won't use it all the time with a healthy body. Thus, buy knee scooter for the duration of recovery seems wasteful compared to renting one for half the price.
Maintenance:
 Once you purchase one, you'll be responsible for maintaining it. In some cases, your own scooter may need to undergo repairs, and it will take a few days before it is ready. It means you'll have limited mobility during this time.
Pros:
Time:
 While knee scooters are designed for short-term recovery, everyone's body heals differently. An average knee scooter rental agreement lasts for 4-6 weeks, and the cost depends on the length of time that you use your knee scooter. When you own your knee scooter, you can recover at your own pace instead of rushing to send it back before your recovery is complete just to save a few bucks.
Money:
Renting a mobility scooter constantly may cost you a lot of money in the long run. There are some unfortunate situations in which you might have to use a wheelchair for the majority of your life. Then you shouldn't hesitate to buy knee scooter if that's the case. In addition to this, many insurance companies cover knee scooter purchases in full, which means this may fit into your household budget, making it more affordable.
Diverse Choices: 
If you're considering buying your own knee scooter, rather than renting or finding one used, you have a wide range of choices available. You can therefore select something that fits your lifestyle. The mobility scooter that you buy can be customized to your own preferences. An all-terrain knee scooter with larger wheels is a great choice if you're active.
You can also choose the knee scooter with a basket so all your essentials can be stored while shopping in the mall. Obviously, this might not be feasible if you're renting because you only get what's available at the time. This leaves no room for picking and choosing.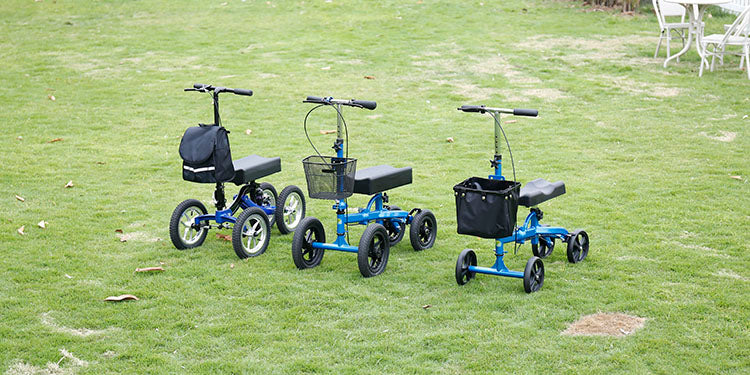 Warranty: 
There are often guarantees of workmanship and warranty on new knee scooters, some even for a lifetime. It means you don't have to worry about correcting any potential issues that might arise with your knee scooter. Once you're feeling better, you can put your knee scooter away, secure in the knowledge that you've got a backup plan. You can also sell the knee scooter to recoup your initial investment.
Conclusion
To decide whether to rent or buy knee scooterwill always come down to cost and long-term usage.The cost of knee scooter rental normally ranges between $20 and $40 per week depending on the type that you get. This method is typically the best if you are dealing with a short-term injury. Before renting a knee scooter, speak with your doctor about how long it will take to recover from your injury. For an injury that is expected to heal in 3 to 4 weeks, you may want to give it an additional week just to be safe, and to ensure that it heals properly with no complications. You would be better off buying your own knee scooter in this situation.
The purchase of a knee scooter gives you safety, security, and flexibility. It is often hard to recover from serious injuries, even if we plan for temporary setbacks. A knee scooter fresh from the store will allow you to select the right model for your needs, whether you're an avid walker and need something all-terrain or you're just looking for a way to walk around the household.