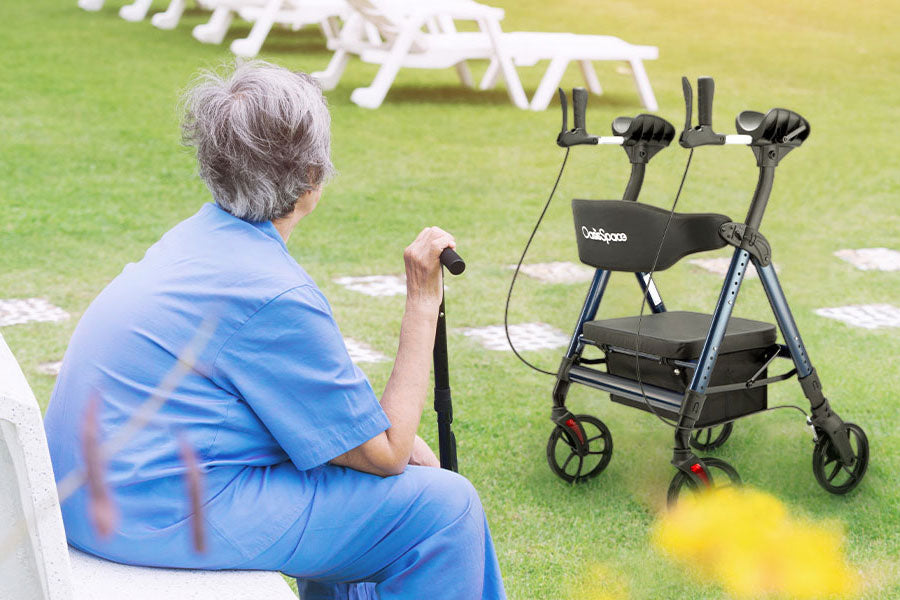 6 Reasons for Buying an Upright Walker
People get less stable as they age and may need more assistance from mobility aids. Among many mobility aid devices available, the standard walker is commonly known for providing traditional mobility assistance. However, users using a conventional walker have to bend over and strain their wrists and feet when walking, causing undue stress on their neck, hands, wrists, and back. Due to the fact that your body wasn't evolved for a hunched position, these walkers can do you more harm than good. It is possible for users to suffer physical decline if they apply traditional mobility aids to daily tasks.
Yet, the world is constantly changing. Rather than conventional walkers, designers are developing alternative options that have revolutionized mobility. In comparison with a typical walker, an upright walker is considered to be one of the most recent innovations that supply a more comfortable and secure form of mobility assistance.
Stand up walker inventions provided a great deal of relief to those suffering from pains and aches caused by conventional walkers. In case you or someone you care about needs a mobility aid, here are reasons why a stand up walker outperforms the traditional one.
1.Correct Posture
Hunching over can lead to poor posture, which might result in serious health issues. Several studies suggest slumping and slouching can trigger back pain, muscle tension, and even reduced circulation. As opposed to a traditional walker, the standing walker allows one to maintain an upright posture while aligning the spine. By using the upright walker, you can stand and walk upright, which will enhance your comfort, confidence, and independence. Ensuring that you maintain the correct posture while moving is essential for maintaining an active lifestyle.
2.Comfortable Support
In view of the fact that traditional walkers cannot provide the comfort levels users desire, the upright walker fills this gap. Besides promoting good posture, the adjustable armrests of stand up walkers would offer comfort for both right and left sides. Furthermore, there is often equipped with a lockable braking unit at the front of the walker so you can maintain full control over it wherever you go.
Typical walkers are built only to support walking, which ignores an essential issue --many people who use walkers need to rest from time to time. With a standard walker, you'll need to find a place to sit if you need a break. In contrast, upright walkers usually have a built-in seat between their bars. By simply putting on/down the brakes, users can stop to sit down or continue walking without any problems. For many people, this feature is essential to their health and well-being, so having it available is extremely necessary.
3.Adjustable in Height
The ability to customize a stand-up walker is, probably, what makes it so appealing. Traditional walkers typically do not have the adjustable features needed to accommodate a specific user's needs. Those with changing medical or personal requirements may notice increased slouching and decreased maneuverability without these features.
With a diagnosis involving physical decline, a stand up walker comes with customized features that would be able to meet your individual needs and promote comfort. For example, standing walkers have the ability to be adjusted to match the height of the user. In the event that they need to bend over more frequently and stand more upright, the rollator can be adjusted so that their mobility and independence are not compromised.
4.Stability and Flexibility
Traditional walkers present a number of drawbacks, including the fact that they force you to bend forward, resulting in a possible decrease in stability of the walker itself. If a mobility aid isn't stable, seniors, children, disabled people, or those suffering from neuromuscular conditions are at risk of falling. Due to features like padded handlebars, upright walkers prevent this risk. They can be easily switched from a sitting to a standing position.
Slouching, in addition to impairing balance, can lead to extreme fatigue for the user. For this reason, having wheels on the ends of each leg is another advantage of the standing walker. In other words, you won't have to steady yourself throughout the journey to lift and set the walker in front of you every few steps anymore, instead you'll be able to move it more smoothly. In fact, it can be difficult for some individuals to stand for even a short period of time without support, let alone lift and move an object. A standing walker's wheels eliminate the need for this motion, making it more accessible to people with limited strength and mobility.
5.Convenience and Portability
Stand-up walkers offer unparalleled convenience and portability. You can simply pull the handles of the walker for seamless folding. It can also be easily transported and thrown into the back of a vehicle. Besides, the closet is the perfect place to store it when not being used.
Aside from its style and health benefits, this upright walker features a storage bag for quick access to on-the-go essentials, like your phone and wallet. This is normally not included with traditional walkers.
6.Indoors and Outdoors
An upright walker offers several outstanding features that make it suitable for both indoor and outdoor use. Users can navigate indoor spaces as well as difficult-to-reach places with its flexibility. Additionally, you are assured of your safety during outdoor events using this upright walker because of its mobility in cramped spaces. With its large, flexible wheels, it is able to cover a wide variety of terrain, as well as rough and uneven surfaces without slipping.
In summary
Nowadays, stand up walkers eliminate most of the limitations associated with immobility, allowing you to take part in a more active lifestyle, including exercise, attending social events, as well as shopping without feeling anxious. These facts further support the contention that upright walkers offer a variety of benefits not available in standard walkers. It is fair to say that an upright walker is user-friendly, comfortable, and much safer than a standard walker. Purchasing an upright walker will make walking more enjoyable for you or a loved one when they require mobility aid.