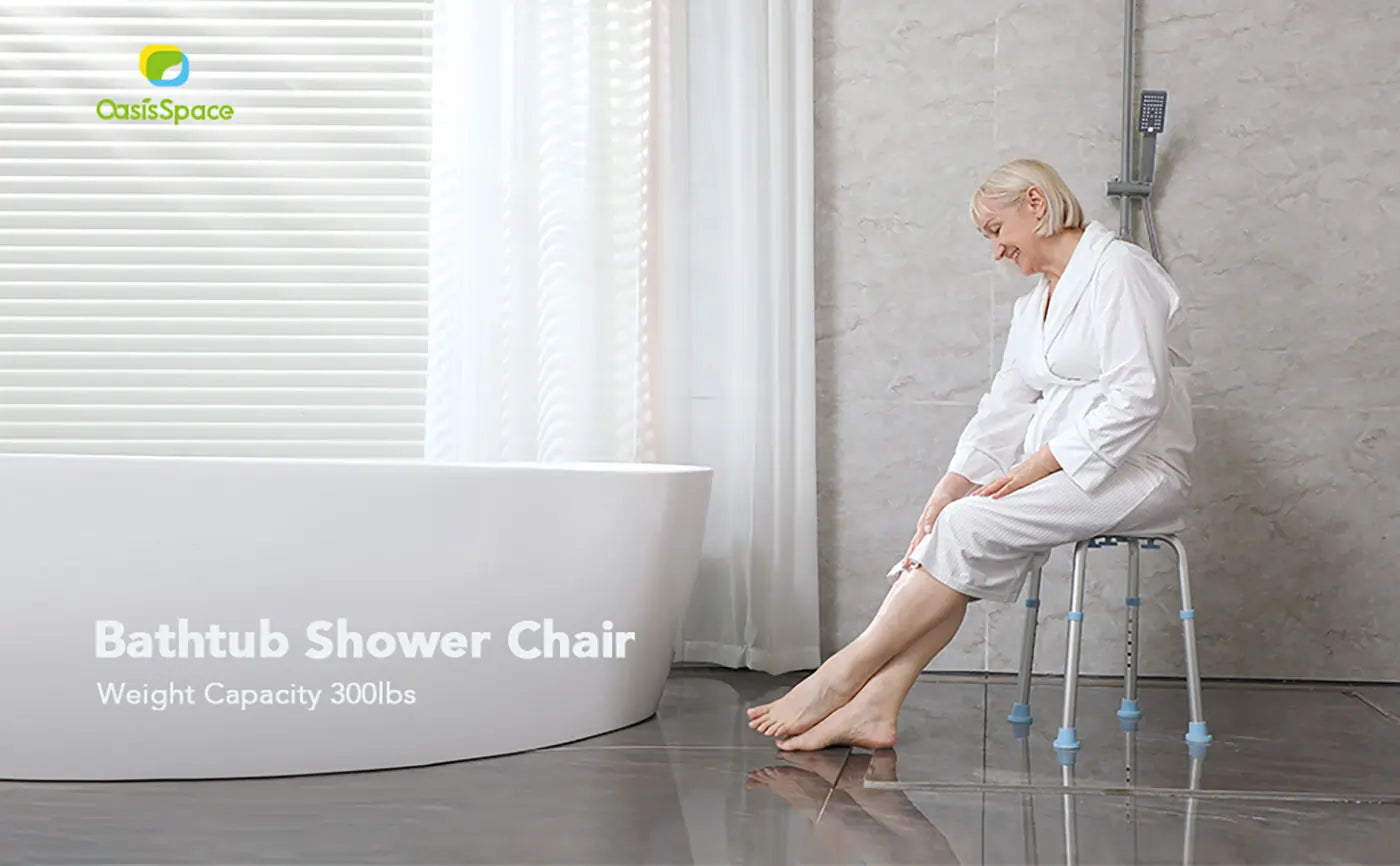 Ultimate Guide to Pick the Best Shower Seat for Seniors
Imagine that you or someone you care about has begun having trouble maintaining balance or moving around freely.
If this is the case, you should probably give some thought to obtaining some bath safety equipment that can assist in preventing falls and other accidents that might occur in the bathroom.
You may preserve your sense of autonomy while showering and make the bathroom secure by installing a shower seat.
Read on to learn how to determine if a shower seat is the wisest choice for your requirements and what factors to consider when making your buying decision.
Types of Shower Seats
Standard Shower Chair
In the bathroom, the most popular assisting device for senior adults is a standard shower chair. This type of shower chair is a great tool for preventing falls and saving money on utilities.
Seating and standing are simplified by the presence of armrests and handholds. This is an excellent shower seat for the elderly due to its extra backrests and comfortable design.
Shower Stool
While a standard shower chair occupies a lot of space, a shower stool only takes up a fraction of the area, making it ideal for bathrooms with limited floor space.
It is most useful in places where a bench or other sort of chair would not fit. Their lack of size is more than made up for by the ease with which they may be carried.
Those who can stand and walk without assistance might benefit from using stools. A portable shower stool may be easily stowed away after use. Due to the lack of arms and backs, these chairs are ideal for those who need a little amount of support yet want to maintain their freedom of motion.
Fold-down Bath Chairs
You may make your shower more approachable by installing a foldable or hanging seat. It is common for these chairs to feature handholds, and an extra reassurance rod may be mounted in the shower for further stability. Folding these chairs against the wall creates extra storage space when they are not in use.
Because this installation would be permanent in nature, careful planning and the provision of reinforcement underneath the wall are a must.
Although it's ideal to plan for this ahead of time during building, they may be installed later with the aid of a reliable contractor to provide a comfortable and aesthetically pleasing sitting solution in a bathroom.
Tub Transfer Bench
Those who have trouble entering the tub on their own may find that a transfer bench is helpful. Wide seats with two legs on every side stand halfway in the water and halfway out. In this way, you may shampoo your hair or body while sitting on the bench well outside the tub and gliding along to the seat within the tub.
Shower Wheelchairs or Rolling Bath Chairs
Shower wheelchairs or rolling chairs may be locked in place in lieu of the standard rubber feet. People who are unable to walk or who have severe difficulties with balance and muscular coordination often benefit from the use of shower wheelchairs.
The patient and the caregiver both receive support from the chair's capacity to be moved into place outside of the bath.
These may be employed as a movable toilet solution by just rolling them over a toilet, or by simply unfolding the seat.
There is a wide difference in pricing and selection of shower wheelchairs; thus, it is necessary to have your requirements assessed to ensure a good fit and design.
Factors to Consider When Selecting a Shower Seat
There are several varieties of shower seats available now, and their characteristics vary widely. We've outlined the main factors when evaluating shower seats and making choices.
Size and Fit
Whether or not a seat will accommodate your shower or bathtub is a crucial factor. Remember to check whether the seat you're considering has a way to attach to the edge of a tub if you use a stand-alone bath. If your tub has a curving bottom, the legs of your shower seat won't be able to rest on the surface.
Material and Durability
It's crucial to look for proper materials when shopping for a shower seat since it will prolong the life of the seat. Shower seats will come into touch with water since they are used as bathroom accessories.
Almost every kind of material is vulnerable to water damage. Make sure the shower seat you choose won't rust in the water quickly. Corrosion will develop after repeated uses if this isn't addressed.
Typical components of a bathroom chair are a plastic backrest and a seat with metal legs. Wood, bamboo, or stainless steel are used in the construction of certain models.
Water Drainage Holes
To keep your skin in good condition, avoid sitting in water that has pooled. Water from the shower may easily drain through the openings in some shower seats. By preventing water from collecting, the shower seat may be dried quicker and maintained more easily.
Feet
To prevent the chair from moving around as you sit on it, many models have rubber soles at the end of every leg. Because of the high danger of slipping and falling on the wet bathroom floor, this function is especially useful for those with poor balance, but also protects the safety of anybody who uses a shower seat.
Folding
A handful of shower seats may be folded up into a more compact size, rendering them simpler to stow away when they are not in operation and more convenient to bring along on trips. Yet, take into account that a non-folding shower seat may give more stability, and hence improved safety.
Height
Adjustable height is often a feature on shower seats designed for the elderly. Check if the seat may be adjusted to a height that will enable you or your loved one to maintain a good posture while not hurting your back and neck.
Seat Shape
The dimensions and contours of the seat should prioritize comfort without sacrificing adequate support. A triangular form and/or an accessible tilt can assist relieve some of the strain that is being placed on the hip joint while it is recuperating in patients who have just had hip surgery.
It is not only unpleasant but also risky for a person to sit on a seat that is too shallow or too narrow for them to maintain their stability. The user has to be able to maintain their equilibrium and feel secure while they are bathing, thus it is important that the seat have the appropriate form, width, and depth.
Padded Seat
Pressure ulcers may be prevented by sitting on a cushioned seat instead of a hard one. An additional seat cushion may protect people at risk of suffering pressure ulcers from the harmful effects of prolonged sitting in one posture.
Ending
There are now a variety of shower seat types available on the market, should you be interested in acquiring one. For instance, medical shower chairs from OasisSpace come in a number of well-approved designs for seniors, including those that are watertight and height-adjustable. With the information we've provided here, you ought to be prepared to select the best possible shower seat.