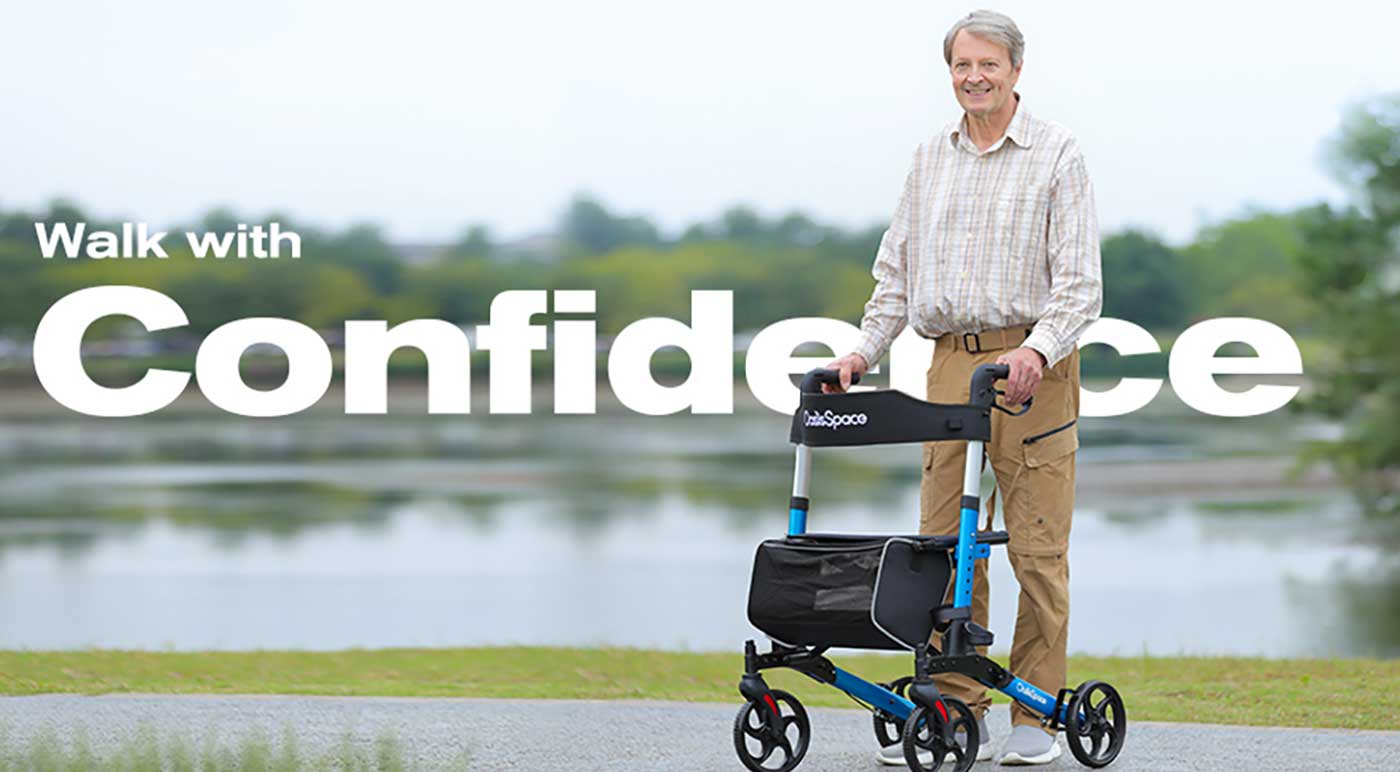 Must-know Safety Tips for Walker Users
For senior citizens, walking is one of the most basic daily activities. Unfortunately, physical deterioration often leads to instability and imbalances in the aging population which further increases their risk for falls and injuries.
The good news is that there are numerous devices available on the market today that can help seniors maintain balance and reduce fall risks.
This article serves as a useful resource providing important guidelines necessary for the safe usage of different types of walkers available today. 
We will inform elderly people by highlighting how they can utilize walkers safely so as not to get hurt or cause any harm either intentionally or unknowingly. 
Walker Types
There are different types of walkers designed to serve different needs and preferences.
1、Upright Walker
The Upright Walker is an innovative mobility tool that helps seniors keep their posture in check as they walk, allowing them to remain flexible and at ease. And in recent years, the need for customized products that can meet the demands of a growing older population is rising.
The upright walkers can present a convenient option for elderly people with their adjustability feature, while traditional walkers often force seniors to bend down or slouch as they shuffle along - this puts immense stress on their back, neck, and shoulders.
On the other hand, using an upright walker will provide seniors with proper support to the body's upper region by keeping it up and avoiding postural distortion.
2、Rollator Walker
The Rollator Walker is a useful mobility aid for seniors who need more stability and safety while walking. It comes in two variations - the three-wheeled type and the four-wheeled type, allowing users to choose what suits their needs best. The three-wheel variation is ideal for navigating narrow spaces, while the four-wheel version is excellent when traveling outdoors.
This type of walker features a handbrake system that seniors can use easily whenever necessary to stop safely or control speed as they move around with it.
Additionally, rollator walkers often have both a seat and storage basket to help older adults rest or carry some items conveniently wherever they go. The fact that this kind of rollator walker may be adjusted to meet the needs of a user over a wide range of surfaces and activity levels is a major plus.
3、Folding Walker
The advanced Folding Walker is a support device for the elderly that folds up for easy transport. It is equipped with four legs, two at the front and two at the back, providing stability while walking or standing.
One of its key benefits is that it can be easily folded into a smaller size when not in use. It's compact design makes it ideal for seniors who are always on the road and who need to keep items in a little amount of space, such as in a vehicle trunk, a carry-on bag, or a closet.
Its compact design also enables older adults to navigate through narrow doors and hallways indoors.
Walker Safety Tips
The following are considerations that should be made when an older person is utilizing Walkers:
Upright Walker
The height of the upright walker must be adjusted so that it is comfortable for the senior user. Seniors may better maintain a balanced, upright posture by holding the grip at a 90-degree angle to the arm.
The second thing is that the upright walker shouldn't be used for too long since it might cause muscular tiredness and strain on the user. Elderly walkers who get enough rest may keep their muscles in better condition and then fully navigate their mobility devices' versatility.
The elderly person using the walker must also be aware of their surroundings to prevent unsteady movement or a fall due to tripping over obstructions or uneven terrain. The key to safe walking is to maintain a steady pace and avoid making any abrupt bends. 
The elderly may better handle their upright walkers and keep their independence by following medical advice when selecting the suitable model and by always wearing appropriate footwear.
Rollator Walker
Here are some things the elderly should keep in mind while using a Rollator Walker:
Rollator walkers include a handbrake that may be used to stop quickly, therefore it's important for seniors to know how and when to use it.
 The elderly user should adjust the seat height before using the rollator walker to prevent an improper sitting posture and the resultant loss of muscle endurance.
Rollator walker wheels should be checked often to prevent jamming or friction that might reduce the rollator's service life and endanger the user.
The seat cushion and back cushion tightness are especially important for older users since the ease of sitting might be compromised if one is too loose or too tight. 
To guarantee stability when walking and reduce the danger of falling, seniors using a rollator walker should pay attention to avoid traveling on hazardous roads and terrain.
Folding Walker
These are the most important considerations for the elderly while utilizing a Folding Walker:
For the elderly, the folding walker's steadiness is paramount. Avoiding using a folding walker on uneven terrain is the best way to assist the elderly avoid injuries caused by trips and falls. 
Elderly people who rely on folding walkers should always double-check the condition of the wheels and the spot where the walker folds up before using it.
When utilizing a folding walker, it is also important to take care when folding and unfolding the equipment to prevent accidental damage. 
The grip of a folding walker should be adjusted to the user's height and length preferences. It's important to make sure the handle is the right height and length for the elderly, since this may save them from having to lean over awkwardly.
Common safety considerations for different types of walkers
Choosing the right equipment is an essential aspect of maintaining safety while using walkers for seniors. Different types of walkers suit varying individual needs, so select the appropriate one based on your comfort and support level requirements.
Understanding how to use it correctly will minimize unforeseen issues with hand brakes, wheels, or other components that can put safety at risk.
To prevent a trip or fall injury incident when using a walker for walking, make sure to avoid unfavorable conditions such as bad terrain or poorly maintained paths;
Use shoes providing stability and firm foot support instead of flip-flops or unstable footwear options like high heels.
Do not over-rely on walkers excessively as this habit may result in an increased chance of slipping and falling by reducing natural body movement due to decreased physical exercise movements.
Ending
Many seniors may have difficulties with balance and stability as they age. Safety should be the first concern when thinking about the usage of walkers by the elderly. Having walking assistance like a walker is crucial for avoiding many kinds of injuries caused by a fall.