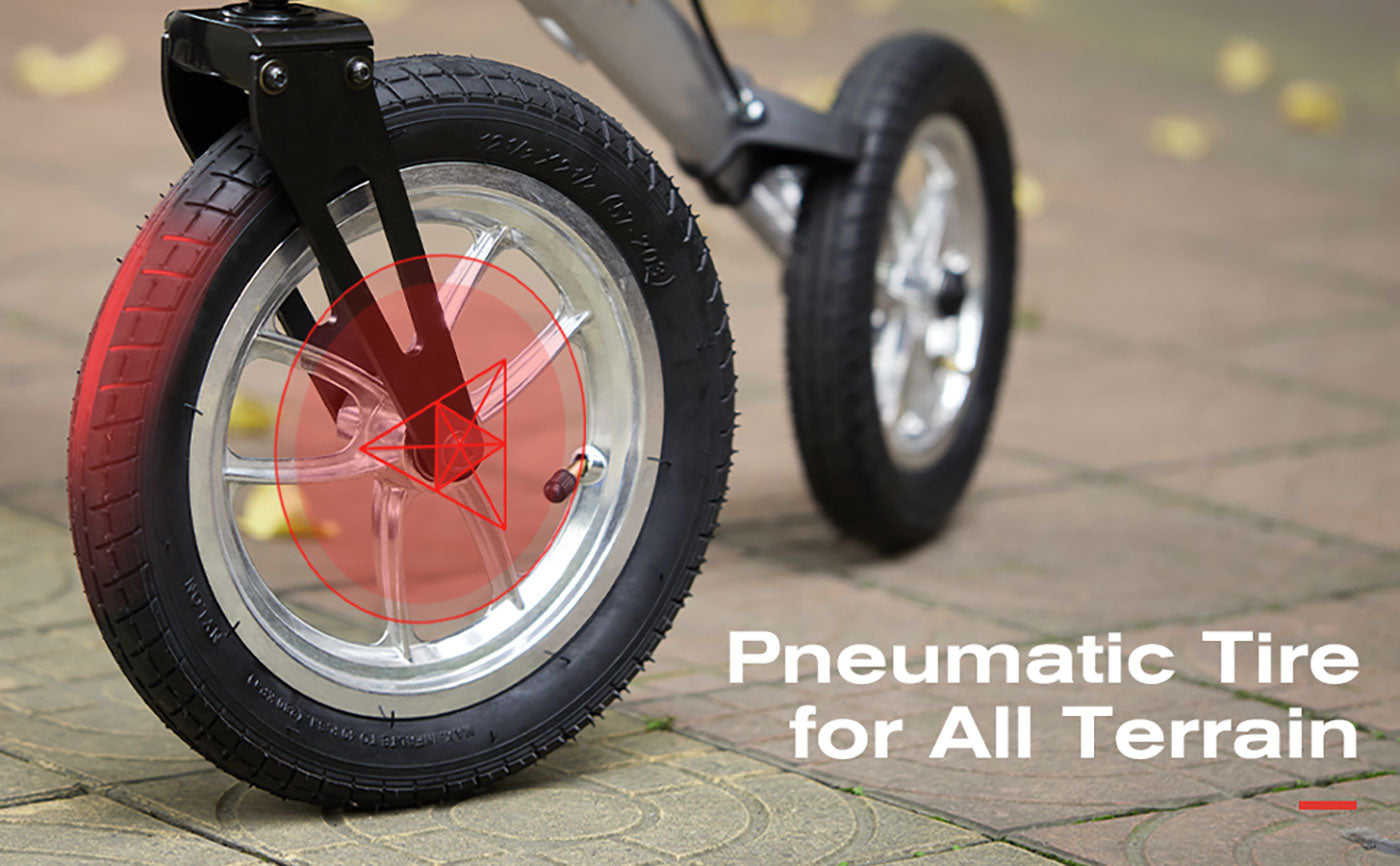 Guide to Buy Knee Scooters with Pneumatic Tires
After a leg fracture or surgery, it might be hard to determine whether you need a crutch, wheelchair, knee scooter, or upright walker to help you get around.
For the most part, a knee walker or scooter is preferred over crutches when one has to keep their foot or ankle elevated in the event of an injury. 
It is crucial to choose a knee scooter that fits your requirements and tastes. With this article, we hope to familiarize you with pneumatic-tired knee scooters and give you our recommendation.
What is Pneumatic Knee Scooter?
Pneumatic Knee Scooter are made of rubber; they are inflated with air and pressurized. Pneumatic tires' capacity to smooth out bumps on the road is a huge plus. The result is a ride with less jolting and rattling.
Plus, the deeper tread will help you maintain control over the knee scooter on slick and rocky streets. These tires make it easier to ride a walking device on grass, sand, asphalt, and other unpaved terrains.
The effectiveness of knee scooter with pneumatic wheels is one of the primary reasons why possibly thousands of them are rented or purchased every single day across the United States.
However, because there are numerous models of knee scooter with pneumatic wheels currently on the marketplace, you may be wondering: how can I select the best knee scooter for myself or for a family member who needs one?
With this in consideration, we have evaluated a variety of knee scooters to determine which ones provide the most advantageous features for the widest range of consumers.
After going through all of them, putting some of them through various tests, and analyzing how they compare to one another, these are the ones that we recommend most:
Bariatric knee scooter VS Explorer Off-road Knee Scooter VS All-Terrain Knee Walker Scooter
Bariatric knee scooter
1
Large wheels and a solid frame are standard on a Bariatric knee scooter. The reinforced pipe comfortably carried the weight of 500 pounds easily. The knee scooter has four 12-inch pneumatic tires that may be used on a variety of surfaces and increase the device's stability and maneuverability.
Designed to handle the elements on metropolitan streets as well as ice, mud, and gravel. These big robust pneumatic tires provide the Bariatric knee scooter the capacity to efficiently absorb shocks, and they are highly puncture-proof, making the pneumatic knee scooter suitable for hard terrain that contains sharp items.
The Bariatric knee scooter has excellent braking systems. This feature is what really set apart the pneumatic knee scooter. Some buyers have even claimed that they grip better than the majority of automobiles on the roads. Less effort is required for operation. And the Bariatric knee scooter has great hill-climbing abilities as well.
Explorer Off-Road knee scooter
1
The pneumatic tires of the Explorer Off-road knee scooter can support up to 300 pounds. Due to its large 12-inch pneumatic tires, this equipment can traverse any terrain with relative ease and dexterity.
The Explorer Off-road knee scooter's steerable design includes a robust and responsive disc brake type tie-rod gearbox, a lockable handbrake, and a tunable drum brake at the back.
The Explorer Off-road knee scooter with a shock absorber is a great option if you're concerned about a knee injury preventing you from enjoying your walks again.
Specifically, this apparatus is intended to provide weight-bearing assistance, which will either hasten your recuperation or make it much simpler for you to do so.
All-Terrain knee scooter
1
The large pneumatic tires of an All-Terrain knee scooter make a world of difference, allowing the device to be used on any surface, even sand.
The scooter's tires are 12 inches in the front and 10 inches in the back, respectively, and are inflated with air, making it simpler to steer in both indoor and outdoor settings.
The compact All-Terrain knee scooter has fully adjustable handlebars and a cushioned knee platform and could support up to 300 pounds.
If you're using a knee scooter with pneumatic tires, safety should be your priority. That's why the All-Terrain knee scooter has two brakes that lock together for your protection. You could simply manage the scooter's rear brakes with the help of its adjustable and lockable handbrakes.
Overall, these three knee scooters with pneumatic wheels are all great walking aid devices and offer various characteristics.
Ending
The most helpful pneumatic knee scooter for you may probably differ from the most helpful knee scooter for someone else.
Hopefully, you've found some useful information in the reviews we've provided here and can now confidently choose the knee scooter with pneumatic wheels that best meets your requirements.