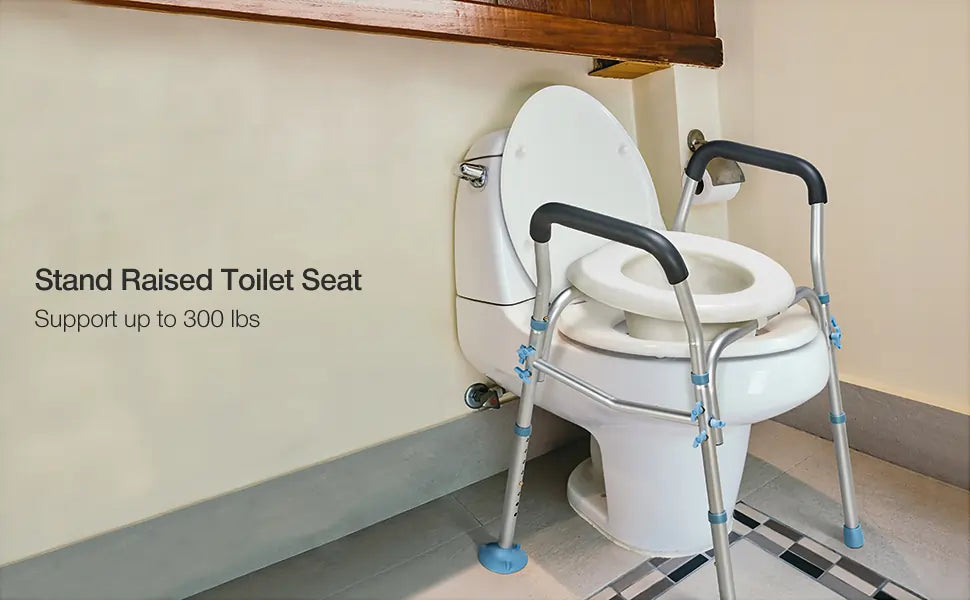 Something About Toilet Seats for the Elderly You Must Know
Why Need Toilet Seats for Elderly
According to the statistics, over one-third of seniors over the age of 65 who age at the place will experience at least one fall per year, and approximately half of these individuals will experience falls on a more regular basis.
One of the rooms in a home that seniors are most likely to fall in is the washroom, and more particularly, while they are using the toilet. Seniors will need to bend over farther to use a toilet that is at a lower height, which raises the risk that they may slip and fall.
Taking care of one's personal hygiene needs is a highly private endeavor, and one's safety when using a toilet ought to be a top priority.You or the elderly people you care for may be at increased risk of falling if your toilet is not designed to accommodate users with impaired mobility, such as arthritis.
In addition to the more apparent modifications, such as grab bars, non-slip mats, walk-in tubs, and showers, installing an extra toilet seat can be a lifesaver.
Types of Toilet Seats for Elderly
It is essential to make toilets themselves safer and simpler to use for older citizens and anybody else with limited mobility. In order to solve this problem, two typical alternatives are to either build a raised toilet seat or have a commode available for use.
Raised Toilet Seat
Adding a taller toilet seat is one solution to these problems. These are simple replacements for the standard toilet seat, so setup is a breeze. By increasing the platform's height, these aids make climbing on and off easier for those with limited strength or mobility.
The seat height may be adjusted by anywhere from two to six inches. It's crucial that the senior user's feet may be planted firmly on the ground while sitting comfortably in the chair.
Also, a safe railing will make it much simpler for older adults to get on and off toilets without worrying about falling. Some models of elevated toilet seats come with built-in railings.
Removable safety frames or grab bars mounted to the wall next to the toilet are two more choices. Reinforced handrails are required if the senior user is expected to lean on them or is otherwise reliant on them.
Commode
There is also the choice of commodes. These are toilet facilities that do not need plumbing and comprise a seat and a frame that have railings attached to them. They are freestanding. It does not have a bowl that is plumbed into the plumbing, but rather a basin that can be removed and then emptied into the toilet by hand.
A commode has the benefit of being able to be positioned in any location, even directly next to the senior user's bed if necessary. This may substantially speed visits to the toilet, and it is particularly beneficial in situations where the senior user must walk either upstairs or downstairs to access the restroom.
How to Choose a proper Toilet Seat
Before deciding on a certain toilet seat, one must first take into consideration their preferences of themselves. Do they have a need for knee arthritis medication and treatment? Do they have to save a certain amount of energy when using toilets?
On the basis of these factors, the senior user may determine whether or not they have to make an additional modification to their toilet, such as purchasing a toilet seat that has handles, in order to satisfy their specific needs.
Design
Designs for toilet seats exist in a wide variety. There are diverse toilet seats that have handles, ones that don't, ones that are freestanding with height-adjustable legs, and even ones that employ hydraulics to assist propel the senior user up and into a standing posture.
Weight Capacity
The average capacity of a toilet seat is between two hundred and three hundred pounds. There is also a kind of toilet seat designed specifically for those who weigh more than five hundred pounds called a bariatric toilet seat.
Height
It is important for a toilet seat to be elevated from the ground to a point where elderly people may simply sit down on it and then get back up. It is also essential to have the ability to place both feet firmly and flatly on the ground.
Portability
The majority of toilet seats are cumbersome and cannot be discretely carried out because of the way they are designed. Even though many chairs are made of lightweight plastic cushions designed with mobility in mind, it might not be a good idea to carry the cumbersome cushion about with you in public.
When a senior user who requires a toilet seat is in a public area, it is advised that they look for family bathrooms since family toilets are often larger and easier to reach than bathroom stalls. Additionally, the toilets at these establishments are often elevated off the floor.
Additional Toilet Seat Features
More elements that may be added to a toilet seat could make it simpler for those who want additional help to use the restroom. These characteristics are as follows:
Elongated bowls.
In spite of the fact that the conventional toilet seat is intended to be installed above a circle toilet seat, there are also elongated oval toilet seats available, which are meant to be installed over more modern toilet seat designs.
Hinged seats.
A regular toilet seat does not have a lid and does not provide a mechanism to fold the seat up so that it may be used by those who do not require a raised position. However, independent devices that have legs that can be adjusted often feature hinges that enable the seat to fold upward when it is not being used and a lid that folds down to conceal the bowl of the toilet when it is not being used.
Seat padding.
There are several toilet seats constructed of padded plastic that provide the senior user with more cushioning when they are sitting on the toilet. In order to prevent the skin from being damaged, these seats should be changed if they get worn with usage.
Measurements
The majority of toilet seats are manufactured in conventional sizes. She goes on to say that it is of much greater significance to ensure that the design of the toilet seat is compatible with the form of the toilet bowl.
There are round and oval shapes offered for toilet seats in order to accommodate the various forms of toilet bowls. The contour of the toilet seat is of diminishing significance if the user decides to go with an isolated toilet seat that functions in a manner analogous to a bedside commode.
Ending
If you want to buy a toilet seat for yourself or a senior loved one, Amazon and Google have a wide variety of materials, models, and price ranges of toilet seats for you to choose from.
Of course, in addition to the large, comprehensive shopping platform, there are also many independent websites that specialize in selling senior assistance devices, such as Oasisspace. Oasisspace can provide you with excellent quality toilet seats and attentive customer service, which will be a great choice for you.