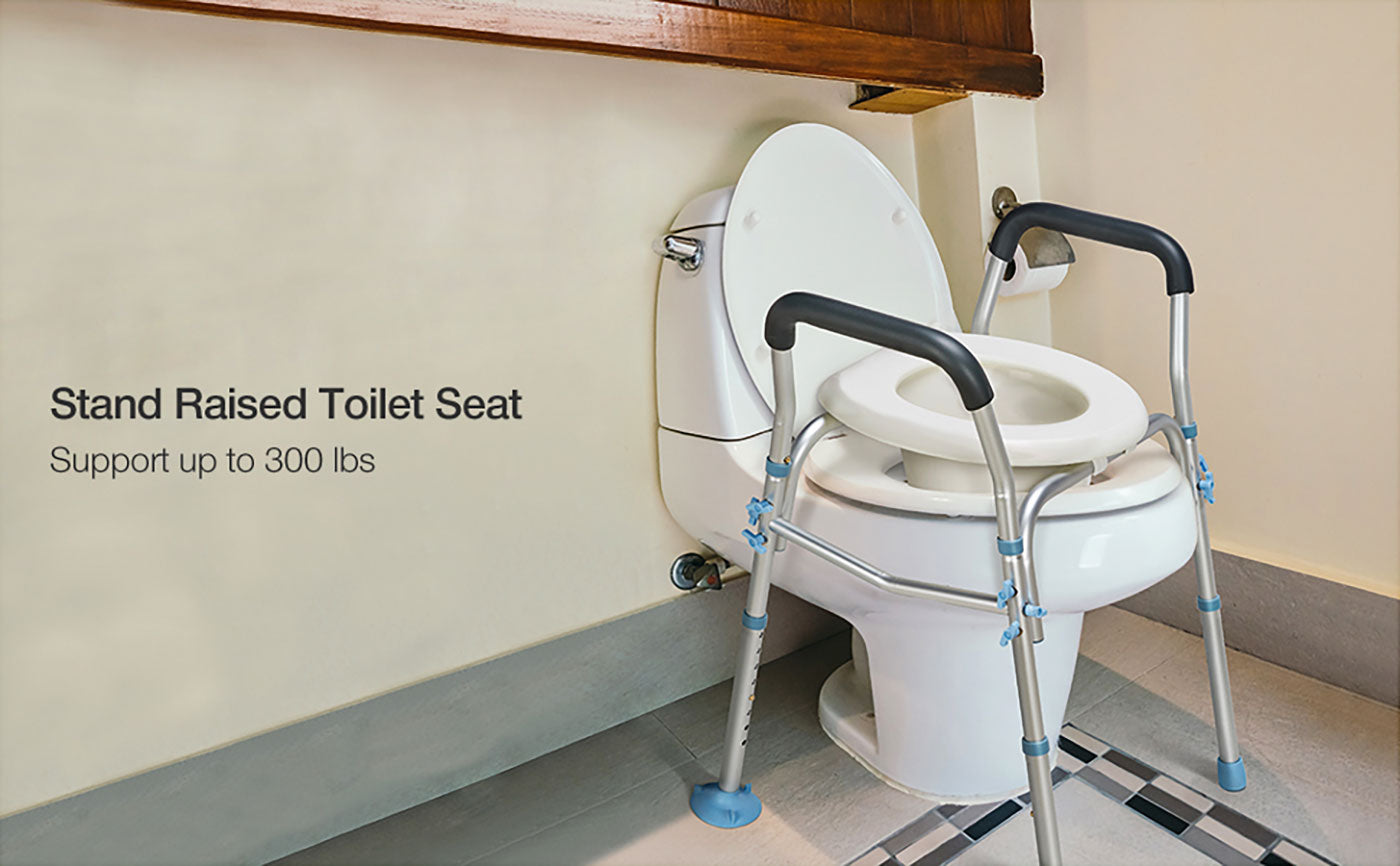 Tips You Should Know Before Buying a Raised Toilet Seat
Aging can lead to some quite inconvenient limitations due to weak muscles, surgeries, injuries, and normal wear and tear. Everyday tasks, like going to the bathroom, are now difficult to accomplish without assistance. However, those who choose to age in place can take advantage of tools like raised toilet seats. 
Providing a safe environment and preventing falls from commodes and toilets, raised toilet seats introduce a revolutionary safety aid to the world of toilet safety. By raising the seat of the toilet, the toilet is elevated to a comfortable height, reducing the distance between the user and the toilet. Having a few extra inches in height can make a big difference when you're going to the bathroom because you're less likely to be injured for getting up or down.
Fallings in the home are usually the result of lower body deficiency and balance difficulties. An elevated toilet seat can help individuals who have difficulty sitting down or standing up on their own, have low strength, or need assistance to use the bathroom. By minimizing the distance between the standing user and the toilet seat, an elevated toilet seat reduces the likelihood of a bathroom fall. It is not uncommon for people to feel resistant to asking for help in the bathroom, even when it is not safe. Anyone who wishes to maintain as much independence as possible will find this especially important. Here are some tips to notice before purchasing a raised toilet seat for yourself or your loved ones.
Types of Raised Toilet Seats
Standard Raised Toilet Seat: This form of raised toilet seat is positioned over an ordinary toilet and features a locking system or not. When a locking mechanism is present, it will either be a bolt or a clamp that secures the seat.
Raised Toilet Seat With Arms: The same as a regular toilet seat, but with additional arms on the side to aid a disabled or elderly person in raising and lowering a toilet seat.
Portable Raised Toilet Seat: Handily located over a toilet bowl, these raised toilet seats are often constructed with light components such as rubber and can effortlessly be detached when not in use. The user can easily transport them when required.
Raised Toilet Seat with Cover : You can also find an elevated toilet seat with a cover. Unlike a traditional toilet seat, the lid can be quickly and easily opened and closed when necessary, making it a more hygienic option in general.
Stand Alone Raised Toilet Seat: It is the same as a normal toilet seat, but with extra legs added to the side. It can help users stand firm while also being convenient to remove and use at any time.
The Primary Factors to Consider 
1. Non-returnable
 Due to the fact that elevated toilet seats are personal hygiene items, most of them are non-returnable. Be sure to do your investigation, measure properly, and consider all your options so you can make the right buying decision.
2. Height of the seat
Depending on the elevation level, the height can vary between 40 mm and 150 mm. As the seat is higher, the user will have an easier time rising and lowering themselves on the toilet bowl, since they will have to move a shorter distance to do so. Measurements are critical because elevated toilet seats can be varying in height. When measuring the correct seat height, you should measure the distance from the ground to the bottom of the user's knee, then measure the distance from the ground to the height of the toilet seat.
3. Dimensions and shape of the toilet bowl
 Even though most raised toilet seats are standardized, determining the bowl's length and width will require measuring from end to end. The length should be determined from the holes in the toilet bowl where the toilet seat should fit. You should note the shape of your toilet bowl for the best fit. Most seats come in either an elongated or round shape.
4. Presence of padding
For individuals who are likely to suffer pressure sores, raised toilet seats that have padded covers may be ideal. For example, durable plastic pads are suggested for most users, a good fit for a toilet seat in rubber. This type of toilet seat is lightweight and portable.
5. Presence of support arms
 In some designs of raised toilet seats, built-in arms offer extra support for users so they can move more smoothly onto and off the toilet seat. If you are unlikely to locate a raised toilet seat with support arms, you may opt for installing a toilet frame or support arms that are mounted on both sides of the toilet.
6. Blend in or stick out
Adding an elevated toilet seat to your bathroom can make the area seem less obtrusive and blend in better with the overall aesthetic. You might find that it matches the toilet's color or folds out of the way or is similar in size to the bowl. 
7. Presence of a lid or a cover
It is possible to purchase raised toilet seats with lids. This is preferable for hygienic purposes. Installed with bolts, raised toilet seats are mounted under the lid, which can be raised or lowered. Putting the lid up or down requires removing the seat.
8. Locking mechanism
 Many raised toilet seats contain a locking mechanism to prevent the seat from sliding around when in use. Usually, this is in the form of a clamp or screw. It is usually the hardest to install models that are the most secure, so you must choose between convenience and level of stability.
9. Weight capacity
 Because each toilet seat is capable of supporting a certain amount of weight, this is an extremely important factor to consider. It is normal for an elevated toilet seat to support a weight of 250 to 300 pounds. A bariatric model can accommodate weights of up to 1200 pounds. You need to ensure that the raised toilet seat can handle the weight of the user before making a purchasing decision.
10. Area around the toilet
 Having enough space around the toilet is important due to the fact that elevated toilet seats can extend beyond the edge of the toilet, especially if they have arms or frames. You can choose an elevated toilet seat model that is best suited to your bathroom by measuring the area surrounding the toilet.
Conclusion
Considering that the bathroom can be one of the most hazardous rooms in the house for those at risk of falling, it is crucial to employ methods to decrease their threat level. With an elevated toilet seat, users with mobility challenges can experience a safer and more comfortable bathroom experience, since the distance they must lower or raise themselves during use is greatly reduced. Taking care of one's personal needs is an essential part of daily life, so being able to use the toilet safely and independently can considerably boost the quality of life.
Numerous elevated toilet seats are available in a wide range of heights, shapes, functions, and installation procedures. Measurement is essential to determining the height of the seat and the area that is available for added support such as frames and armrests. By identifying the correct size and shape for a seat, you can choose the installation method that is right for you and select the features you prefer.,