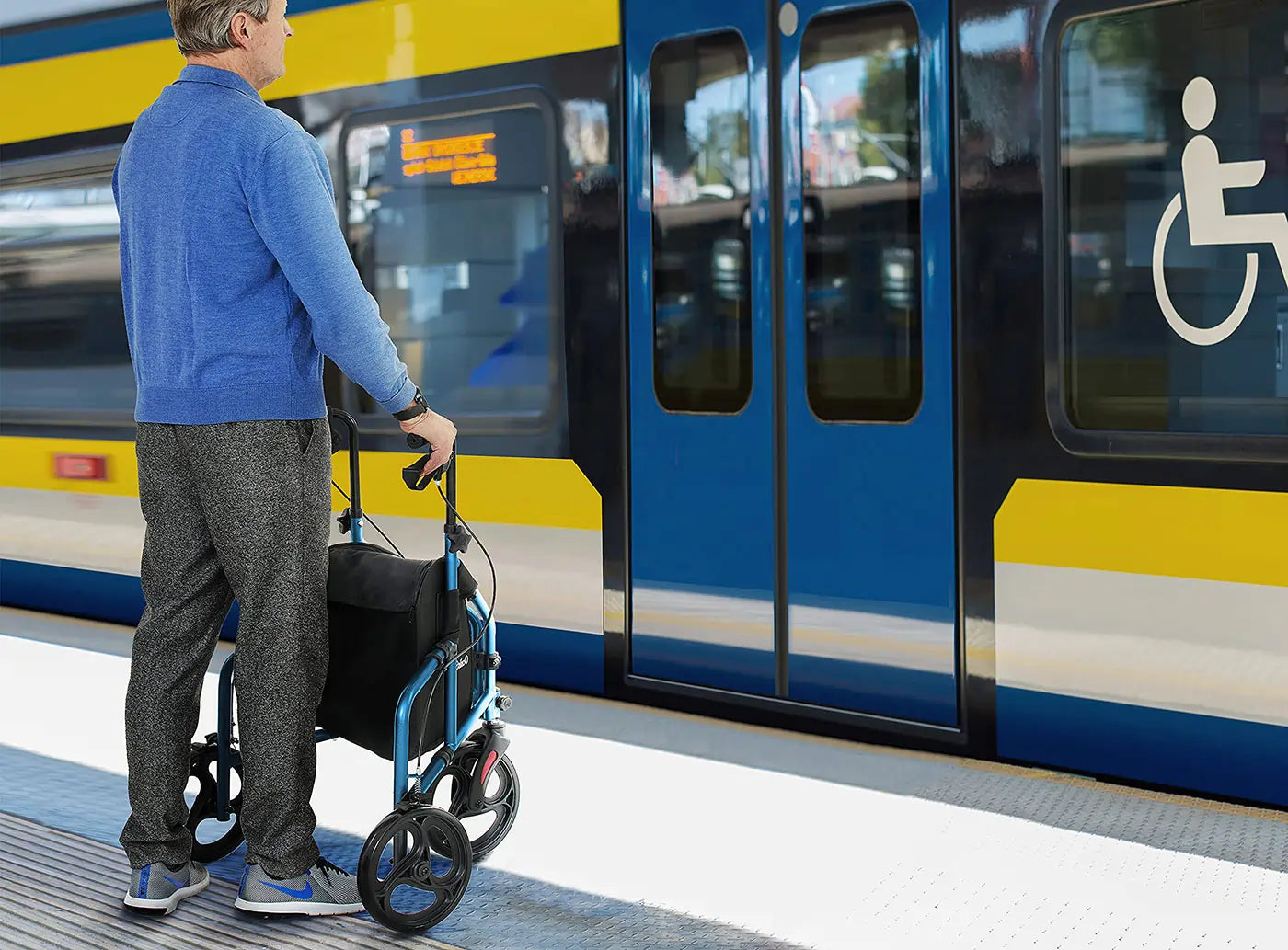 Choose the Best Rollator Walker: 2 Wheels vs 3 Wheels vs 4 Wheels
The fact that we all age is unavoidable, but there are many ways to improve upon the process, making this reality all the more bearable.
The use of mobility aids like rollators is now widely accepted as an important aspect of aging gracefully.
Individuals (often the elderly and the disabled) who need extra help when walking may use frames called walkers or rollators.
Today, consumers may choose from a plethora of distinct designs while shopping for these devices.
Each walking assistance model is uniquely crafted to do a certain task and boasts a unique set of characteristics. The most common forms of rollator walkers are those with two wheels, three wheels, and four wheels.
Two Wheels Walker
Wheels are attached to the front legs of a basic walker, making it a two wheels walker. Compared to basic walkers, two-wheeled walkers have a unique mode of operation.  
Getting around will be a breeze thanks to the wheels. The rubber grips on the walker's legs keep it from sliding away. They achieve this by increasing the amount of friction that the walker encounters.
1
Advantages of Two Wheels Walkers
As opposed to traditional walkers, two-wheeled walkers do not require the user to raise the device off the ground with each stride, which results in a more natural gait for the user.
In addition, seniors who walk at a sluggish pace may find that two-wheeled walkers are beneficial to them since the wheels may assist in speeding up their normal walking speed.
Most rollators with two wheels are sold fully constructed and need no further adjustments to be used. The height of these two-wheeled walkers may be adjusted, and they fold effortlessly for travel or storage.
Disadvantages of Two Wheels Walkers
The inability to pivot the front wheels gives a two-wheeled walker a very wide turning circle. In order to maneuver the walker in a tight area, users must lift it up, which might be dangerous for those with weak balance.
The narrow wheels on this style of walker make it unsuitable for use on uneven terrain like grass or in a house with carpet and hardwood flooring.
Three Wheels or Four Wheels Walker
Rollator walkers, which come in three-wheeled and four-wheeled varieties, are quite similar to standard walking frames but provide more mobility due to the extra wheels. Rollators are convenient because they let the user move with more command, in more comfort, and with increased speed.
With either model, the likelihood of falling is drastically reduced. Moving steadily is no problem with either the three-wheel or four-wheel variants, and both offer the extra benefit of a smooth and natural ride.
These rollators have a sturdy frame but are still quite lightweight, and they often include room for a basket or even a seat.
There are a variety of rollators available, each with its own set of advantages and disadvantages, and the one you decide to go with may come down to personal preference in certain instances.
Advantages of Three Wheels Walkers
Three-wheeled walkers provide users with better mobility, which is a big selling point. When compared to a typical four-wheeled rollator, the addition of a third front wheel greatly improves maneuverability.
And a three-wheeled rollator is easier to operate since its lightweight frame requires less effort to propel. A three-wheeled rollator is ideal for those who have poor hand-eye coordination or weak upper body muscles yet need to go around rapidly.
Finally, the space between the device's front wheel and its rear wheels is an ideal spot to store bags, which is very useful for individuals who need to take along necessities. Carrying a heavy bag will no longer cause you trouble.
Disadvantages of Three Wheels Walkers
The deficiency of stability is the first big problem with this type of device. A three-wheeled walker isn't the best option if you require additional assistance when walking or are unsteady on your feet for any reason (with a history of falls, for instance).
This variant lacks sufficient capacity for a seat. Even if a bag may fit, some people want a place to sit while they are tired. A high-quality rollator may serve as a seat as well as mobility assistance.
Advantages of Four Wheels Rollator Walker
The four-wheeled types may accommodate a seat between its two tiers of wheels. The bigger structure will allow you to rest whenever you need to if you've been strolling about with your walker for too long. This comes in helpful for those who wish to be active but have trouble doing so.
The four-wheeled walkers are more robust than the three-wheeled ones. A four-wheeled rollator is recommended if you have to use a rollator to transport a significant amount of weight and require a high level of support.
Over rougher ground, the extra stability provided by a four-wheel walker is invaluable compared to a three-wheeler. And a four-wheeled variant has a reduced likelihood of tipping over on an incline.
Disadvantages of Four Wheels Rollator Walker
While four-wheeled rollators may be convenient for longer distances, three-wheeled walkers are easier to maneuver around corners. It might be difficult for those with weaker upper bodies or in confined spaces to do a full circle. Lifting and turning it by hand may be necessary.
The four-added wheeler's heft is the vehicle's most noticeable drawback. Some people may find it difficult to ride a four-wheeler because of its larger size and less agile handling.
Weight is a benefit for stability, but it comes at the cost of mobility. It's easier to get a three-wheeled walker into the trunk of a vehicle for a family vacation than a four-wheeled Zimmer structure.
Summary
The above discussion highlights the many distinctions between the three varieties of walking devices. There is a wide variety of walkers available, and each one is designed for a certain set of needs. Also, the user's age, level of movement, and body weight should be considered when making a purchase.