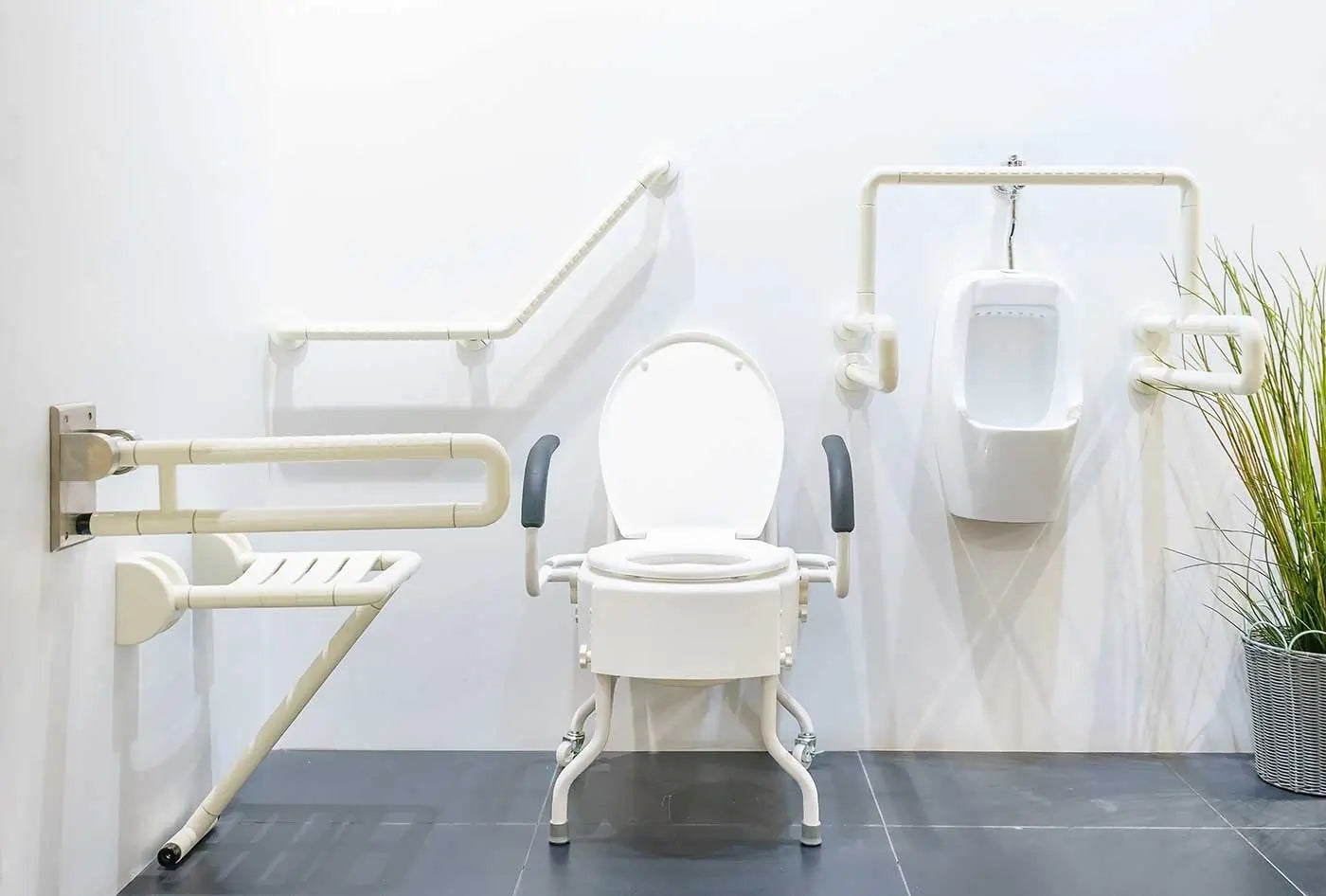 Helpful Tips to Improve Bathroom Safety for Elderly
The vast majority of people do not give much thought to the fact that the bathroom may be rather hazardous for elderly individuals.
According to data supplied by Aging.com, however, 30–50% of the falls suffered by older adults aging at home are directly consequence caused by the living environment.
These accidents often happen on damp, slippery surfaces. When entering and exiting baths and showers, these surfaces present a number of risks. When it comes to the older population, poor bathroom layout is another reason to be concerned.
And for elderly people with limited mobility, this frequently leads to catastrophic, sometimes deadly injuries. To maintain a secure atmosphere and lower the chance of severe injuries including cuts and bruises or fractures, a bathroom protective kit for elders is essential.
The most hazardous room in the house may be turned safer with the assistance of a few modifications.The following safety precautions may be used in the bathtub, the shower, or both.
1. Install Grab Bars & Shower Safety Handles
The bathroom is certain to have both water and surfaces that are prone to slipping at all times. Even while eliminating any situations that can lead to slick surfaces is the common approach, it will not be consistently practicable in showers and bathtubs.
You may put grab rails and shower handles in practically every part of the bathroom to aid with balance.
Grab bars are often utilized to assist persons in entering and exiting showers or bathtubs and they are also useful next to the toilet to assist with standing up and sitting down. A rail to hang onto might oftentimes make it simpler to move around the restroom. It lessens the requirement to depend on unreliable surfaces for balance, such as towel rails and basin counter-tops.
2. Using Shower Chair or Shower/Tub Transfer Bench
Using a waterproof stool in the showers or tub transfer bench is a good option for elderly individuals who have trouble standing or keeping balance.
They come in a range of sizes and are normally constructed of plastic with a rustproof metal structure. They may be rolled into the bathtub or the shower and then taken out when not being used.
3. Installing Walk-in Shower
Upgrading a standard bathtub with a walk-in shower may be a fantastic option for those with mobility issues or elderly individuals, although it's an expensive option. The design of a walk-in shower, also known as a highly accessible bath, is focused on user convenience.
As the border of a standard bathtub may be difficult to maneuver for those with physical limitations, walk-in showers are an ideal alternative because they feature a far narrower edge, and in some cases, no edge at all, rendering it simple for wheelchairs to enter and exit.
4. Placing Non-Slip Mats
When stepping out of the shower or bathtub, a bath rug may be a pleasant addition to the sensation of warmth and coziness, but it can also be a source of serious injury.
When combined with a damp surface, the risk of slipping on an untacked-down mat or rug is substantial. When it comes to the elderly safety, the first step is to get rid of any mats that aren't firmly attached to the surface or just aren't non-slip.
Alternatively, try to choose safety bath rugs with a resistant backing that will not slip. They need to be smaller and less cumbersome than regular bath rugs so that rollators and wheelchairs may easily move over them without tripping.
5. Considering Non-slip Flooring
The majority of bathrooms have floor tiles, however, they are rarely constructed with the needs of the elderly in mind. Typically floor tiling is matte because a shiny tile becomes particularly slippery when wet. However, it's possible that this won't be adequate to curb mishaps.
The flooring of bathrooms and showers may now be tiled with a rough, non-slip variety. One further option is to install rubberized decals in the shower or bathtub.
6. Installing Raised Toilet Seat
Not only do elderly people often have difficulty using showers and bathtubs, but they also regularly injure themselves when attempting to sit on or rise from the toilet.
In addition to installing handrails nearby, a raised toilet seat may be useful for those who have trouble bending over or sitting down. Most elevated toilet seats are made to fit into existing toilets of normal size, making it unnecessary to buy a new toilet if you live in the United States or Canada.
7. Putting Essential Items Within Easy Reach
Making sure that all of the items that are required for bathroom usage are within easy reach is possibly the fastest and the simplest approach to enhance bathroom safety. Towels, washcloths, and other personal hygiene supplies should be stored at a more convenient height.
You may keep your cleansers and detergents neatly stored in a shower tray, while the bottom shelves can be used to store your other bathroom essentials, such as your combs and toothbrushes. Also, low plastic boxes are more convenient to be using than tall cabinets.
8. Using Hand-Held Shower Head
If you're concerned about slipping and falling in the bathroom, investing in some sturdy shower accessories is a good idea. Handheld shower heads that are both flexible and easy to use now include a variety of functions that are tailored to the needs of the elderly.
Installing a switch-equipped shower handle might be helpful for elderly people who have difficulty turning on and off the water. To accommodate the needs of seniors with skin problems, certain models are equipped with a variety of softer spraying head designs that allow for fully customizable hydraulic pressure.
If you need more flexibility while showering, a lengthier hose may be a good investment. An easy-to-install portable shower head is one solution for making showers safer.
Ending
By implementing even a few of these measures, you may make your bathroom safer for your senior loved one. Analyze the needs of your older family members and repair or rebuild any possible dangers you find.
Some really inexpensive modifications to the bathroom may greatly improve the quality of life for an older person, lessen the likelihood of accidents, and provide comfort for the whole family.