About this Folding Rollator Walker
COMPACT DESIGN- The unique folding design allows you to adjust the width of the rollator. It permits you to navigate narrow spaces. The front wheels can be easily folded, and the rear legs removed, allowing you to put your rollator in the travel case, a car trunk, or cabinet.
HUGE WHEELS - The 10-inch front wheels provide better stability and security when you rolling on the rollator uneven surfaces. Compared with rollators with 8-inch wheels, our product can better accommodate rough or soft ground such as lawn, sand, forest, etc. The two-size wheel system is much easier to push over any surface, including floors and carpets.
WIDER SEAT - No need to struggle with a narrow seat. Our 17.7 x 9.8-inch seat provides more space. With the support of a thickened, soft, and strong back belt, you can relax in comfort.
BAKED-ON FINISH - We use an advanced painting craft technique on the surface of the frame, which results in a fancy bicycle appearance. The 1.5mm series 7 aluminum frame provides a 300 lbs weight capacity.
BICYCLE-TYPE BRAKING SYSTEM - Ergonomic handles are part of an easy-to-use braking system that can be locked when you do not want the walker to roll. ¡°1-Click Button¡± allows you easily to adjust the height of handles.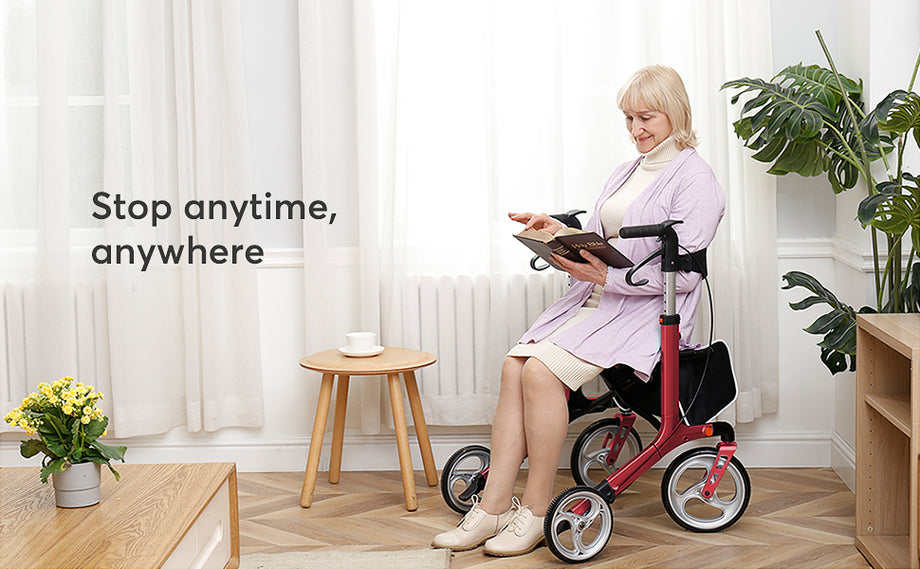 All Terrain Wheels

Big wheels make big difference,10"wheels for great passing ability, help you lightly going through some rugged surface like stone road,boardwalk,lawn.

Idea Size for Travelling

The smallest folding size Rollator in the world. 21.6*14.5*7.8". Easily take it in the trunk of your car and have a nice weekend with your family.

Shopping Bag Outing

The bag attaches to the front of the rollator, the fitting mechanism allows the bag to be quickly attached or removed and carried into the house.

Narrow Size for Door

When you are going through a narrow door, try putting half of the rollator away and go through the door before using it normally.
Specification
Size: 

23.3 x 16.6 x 8.85 inches; 18.5 Pounds

Manufacturer : OasisSpace

Capacity: 300LBS