About Heavy Duty Advanced Upright Walker-Red
WALK-IN COMFORT - OasisSpace Armrest walkers for seniors are designed to support your back and waist at the same time. Rollator keeps you walking in a comfortable right position, instead of hunched over.
HEIGHT ADJUSTABLE ARMREST- Wide Rollator walker features a padded armrest that keeps your forearms resting at a natural level and suitable hand angle, taking pressure off your shoulder and back. The oval tube can be raised and lowered ranging from 39"- 48".Look forward comfortably, and provide better upper torso support.
HOLDS UP MORE WEIGHT - Take a quick rest after strolling in the park. This lightweight walker for seniors features a wide, comfortable seat that is designed to hold up to 450 lbs of maximum weight.
EASY TO STORE - Bring our rollator walkers for seniors wherever you go. Easy to transport, the tall rollator walker folds for compact storage, fitting in the trunk of a car or even in the backseat.
Stability and Security: 10" Front wheels, 360°swivel for easy maneuvering, sturdy enough for an indoor and outdoor smooth ride.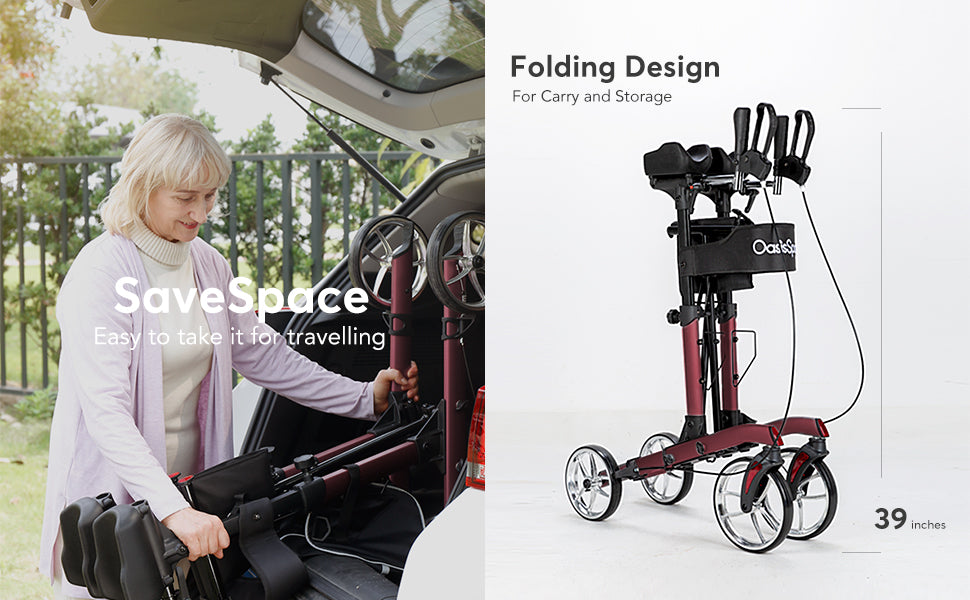 Specification
Product Dimensions:

34 x 18.8 x 9.6 inches; 28 Pounds

Manufacturer : OasisSpace

Capacity: 450LBS
Impressed
I, purposely, brought a wide on even though I am a skinny dude, because I have a wide stance. This has a nice weigth so it won't fall over. I am recovering from neck surgery and my balance is taking time to return, and this is good because I don't want to slouch to hold a normal walker.
Great walker
Very well design, the walker meant all expectations. Easy to put together, easy to fold and maneuver. Great overall product.
wide enough to be stable for tall people
Easy to assemble, high quality, excellent, thoughtful design.
Nice Upright Walker
Nice stand up walker. Only complaint is getting up from the seat if you are tall & overweight with balance issues. Great to walk upright with no bending over
Really nice product, but assembly could be quicker with better directions.
The only complaint I have was the direction booklet was insufficient to put it together without trial and error. And there is no description of the enclosed hardware to assemble, and where it goes like the cane holder, the swinging clip below the seat, and those 2 plastic partial rings. I'm a caregiver and I've assembled thousands of pieces of medical equipment but this stump me a bit, I purchased this for a large client who has wanted one for a long time, but this is the best price I've seen for a heavy person standup rollator walker. And for several commentors who said there was no way to lock the wheels, you press the brake forward to lock it before sitting down.
So manufacturer, put a diagram of the included hardware with a line to where it goes. And include a blurb that the video is online next to the Amazon posting for the product. I did look for a video but the one I viewed didn't have the video. Better brake pads for carpeted use.