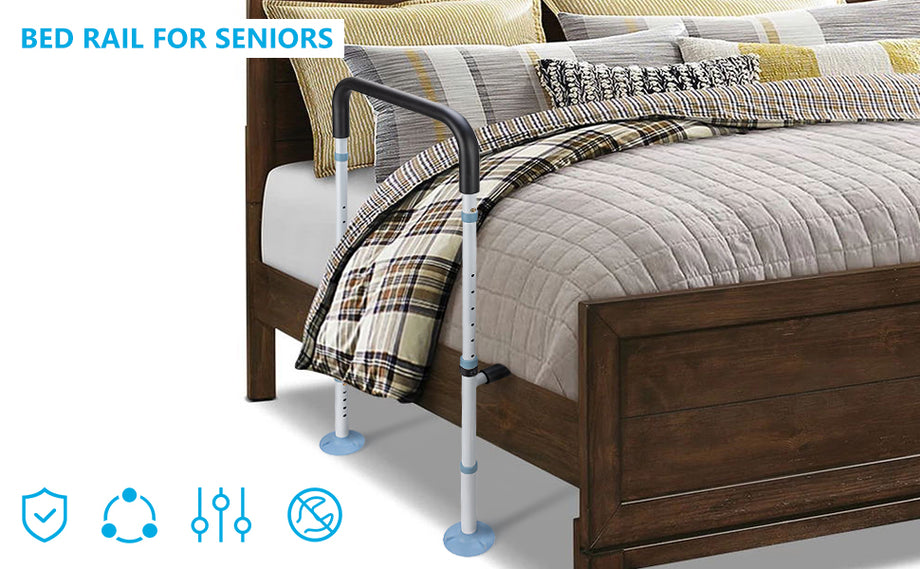 OasisSpace Bed Rail for Seniors, Medical Adjustable Bed Assist Rail Handle and Fall Prevention Safety Hand Guard Grab Bar for Elderly, Handicap, Kid. If getting in and out of bed presents a challenge, the solution is an Adjustable Bed Rail. This modern handrail design will blend in nicely in any of your bedrooms. Easily adjusts to fit any bed, the bed rail provides additional stability for seniors, those with unsteadiness, and those recovering from surgery or injury.
Safe Bedside Support

Providing extra support and assistance when getting into or out of bed, the safety rail with rubber-tipped legs and additional suction cups is stable and secure.,

Nonslip Comfort Handle

Padded with soft foam, the bed safety handle provides a comfortable and secure grip for getting into and out of bed safely.

Adjustable Bed Assist

The height is also adjustable from 12" to 16" to work with most frame and mattress combinations.
Tool-Free, Sturdy Frame

Easy to assemble in minutes. sturdy frame with a maximum weight capacity of 250 lbs

Use with Any Bed

For use on either side of the bed, the durable steel bed assist rail support bar works with any bed size bed size (twin, full, double, queen, king).

CARE+ Program

Register OasisSpace group member, you can get additional repair coverage and technical support with care protection plan